©

James Butroid
Eleanor and Elliot's Creative Spring Wedding at Curradine Barns
Eleanor and Elliot delighted guests with their creative décor and informal style at this relaxed, romantic celebration.
Location, Location, Location
Eleanor and Elliot had many reasons for choosing Curradine Barns as the venue for their April wedding.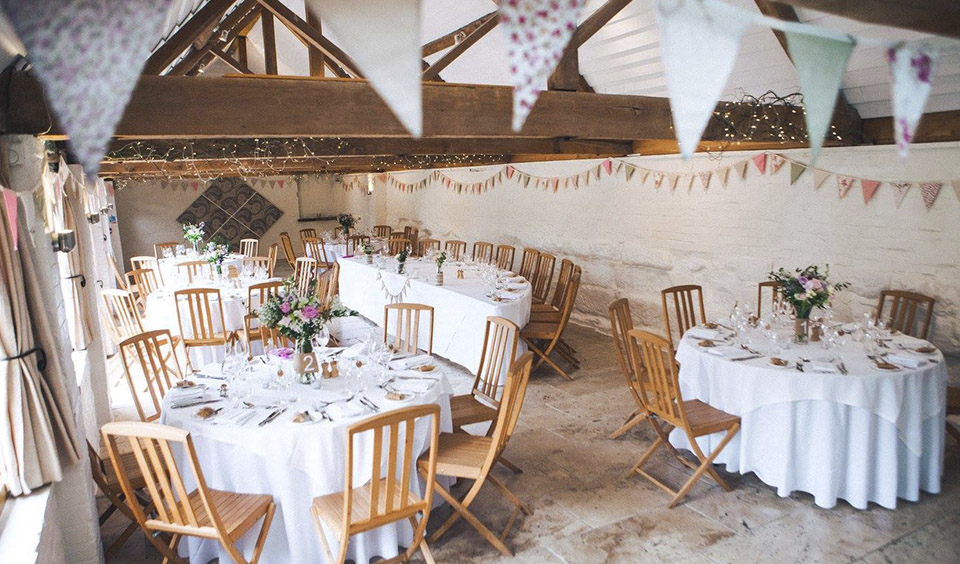 "We loved the rustic barn feel and the fact that the entire venue was ours all day long. It was also very appealing to have the catering on-site and the Events Team there if we needed any advice." – Eleanor and Elliot
Theme of the Day
Marrying in spring, the happy couple chose to embrace the barn style and bring in beautiful pastel shades. Eleanor made many of the decorations herself, with help from friends and family.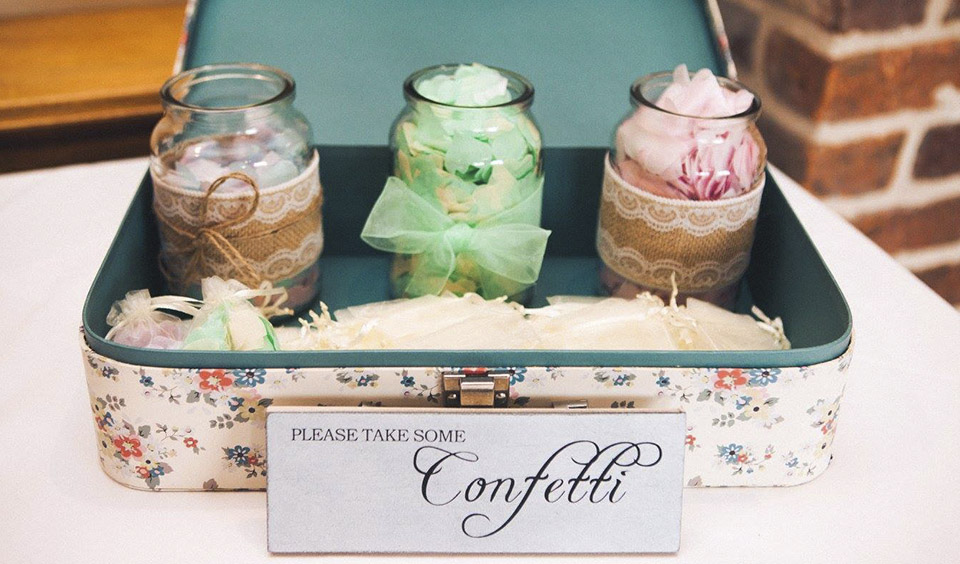 Eleanor even arranged the venue flowers the day before the wedding.
"I decorated Mason jars, made a pallet sign, crafted the invitations and table place names and made activity packs for the children." – Eleanor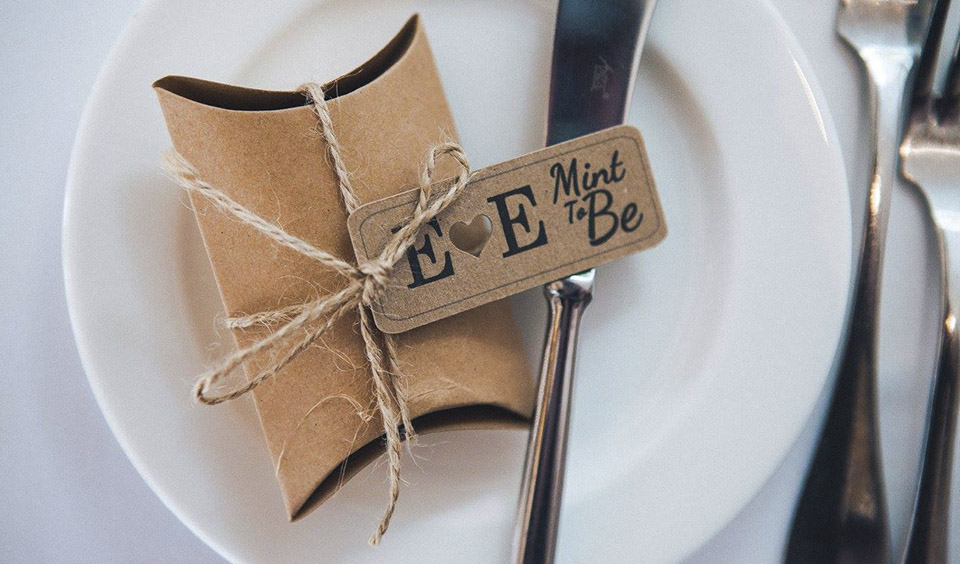 Vintage bunting, made by her aunt for her cousin's wedding, adorned The Barley Barn.
"I really enjoyed doing it although it was a bit stressful at times, so all help was appreciated." – Eleanor
That Special Dress
As soon as Eleanor walked into Lisa Rose Bridal, she spotted a dress by Enzoani Blue that she knew was the one.
"It was on a mannequin at the front of the boutique and I told the bridal consultant that I loved it. It also happened to be one of the most expensive in the shop, typically!" – Eleanor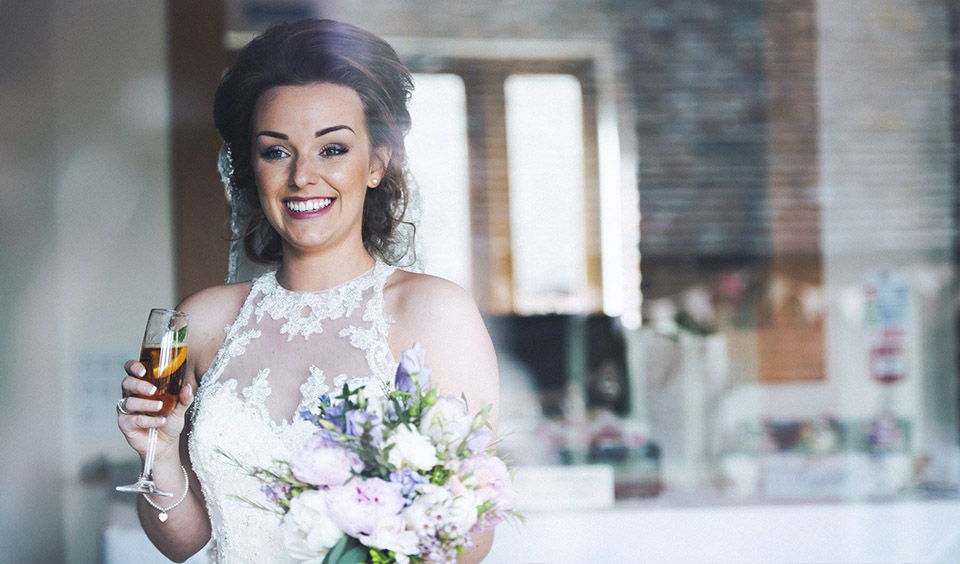 After trying on a number of different styles and accessories, she decided to take the plunge and put down a deposit on the dream gown. With beautiful lace applique, a stunning back and scalloped lace train, this really was a dress to remember.
As her gown featured a lot of detail, Eleanor kept her accessories simple, wearing ivory satin shoes from Rainbow Club and pearl earrings and bracelet from Tiffany & Co.
"I didn't keep my heels on for too long. Elliot bought me some silver Converse for the evening so that I could dance!" – Eleanor
All Dressed Up
The two bridesmaids wore grey, floor length off the shoulder dresses, also from Lisa Rose Bridal. As for the groom… Elliot looked the part in a charcoal suit, tweed waistcoat and pastel green tie. His accessories couldn't have been more perfect – spanner and hammer cufflinks from Eleanor, representing his job as a Formula One mechanic!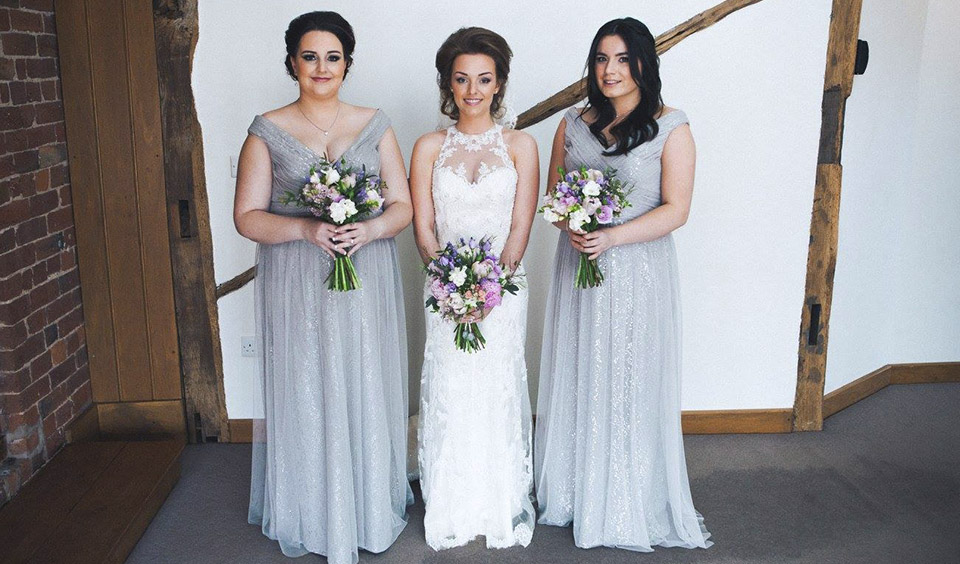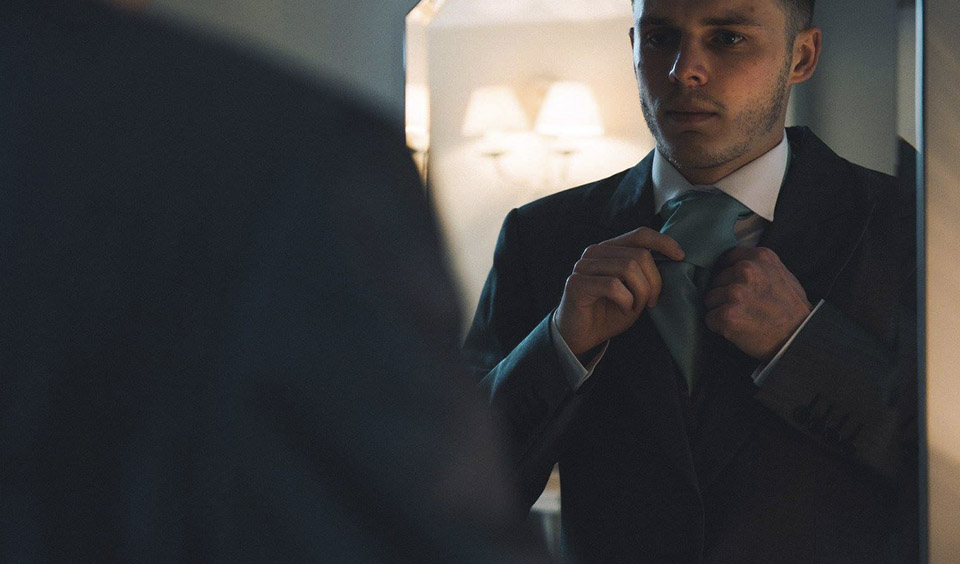 Beautiful Blooms
Eleanor asked the florist to create beautiful flowers based on the rustic barn theme and the pastel colour scheme. The results were perfect. The bride's bouquet was a pretty mix of pastel blooms, gypsophila and foliage. To this, Eleanor attached a charm containing a photograph of her late grandfather, and a blue feather as her 'something blue'.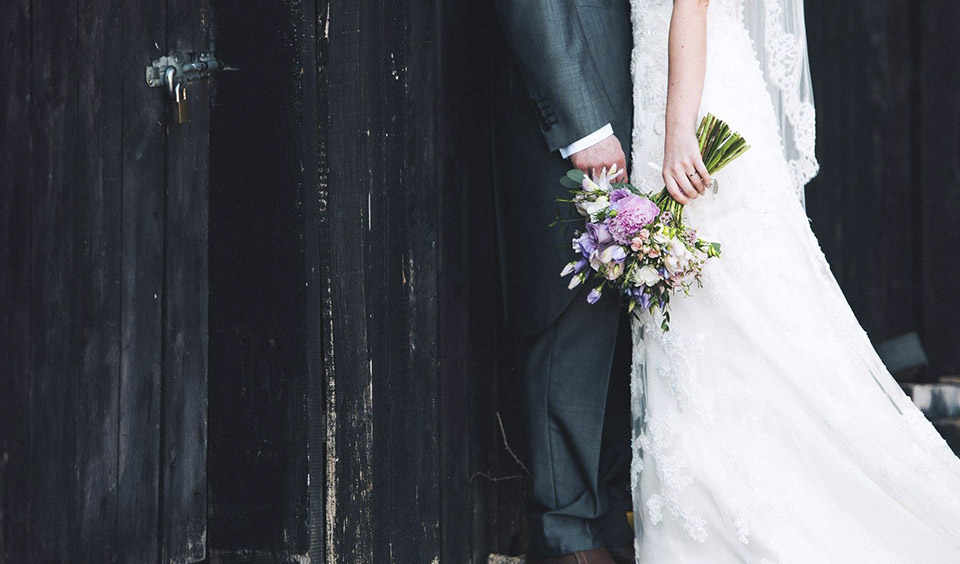 "When my grandparents and my mum were on holiday years ago, they went to a cabaret show. The feather came from a feather boa and my grandad held on to it for years. My sister is getting married soon so I'll pass it on to her and hopefully it will be passed down the generations." – Eleanor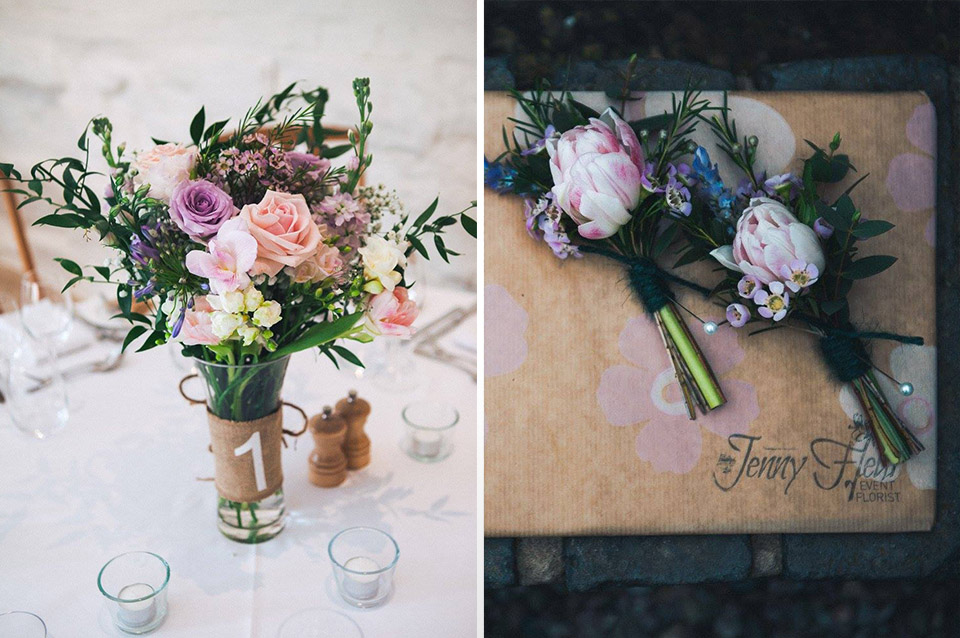 The bridesmaids carried smaller versions of the bride's bouquet. The day before the wedding, the florist kindly supplied Eleanor and Elliot with three buckets of mixed flowers.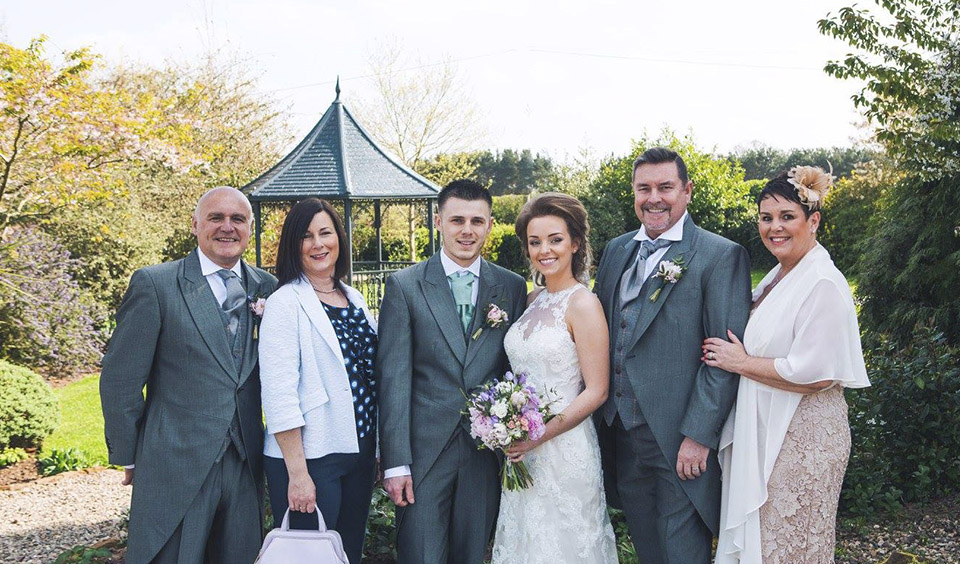 "I really enjoyed making centerpiece arrangements. Along with the other DIY bits, it kept me occupied so I didn't have chance to feel anxious. I felt a real sense of achievement." – Eleanor
Time to Dine
Following their ceremony, welcome drinks and canapés were served in The Courtyard before the wedding breakfast was served. The starter was a smoked bacon Scotch egg, with beef for the main course and Eton mess for dessert.
"We picked the menu because we really liked it and that's what we would have chosen if we were out to dinner." – Eleanor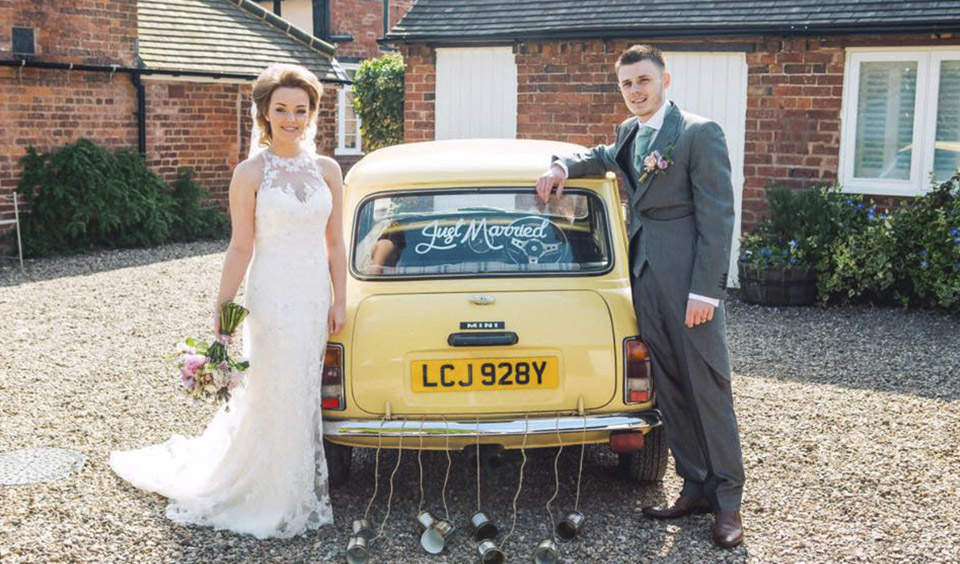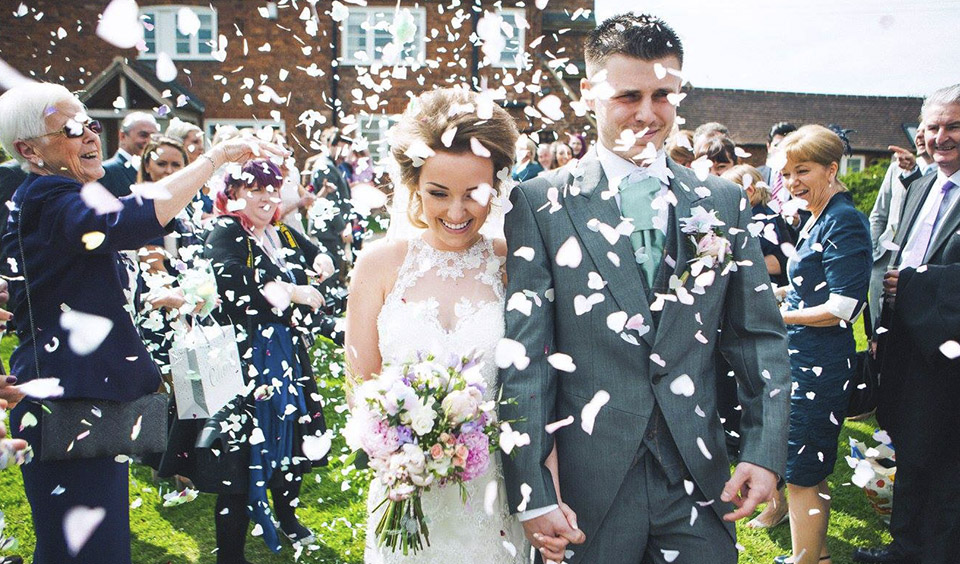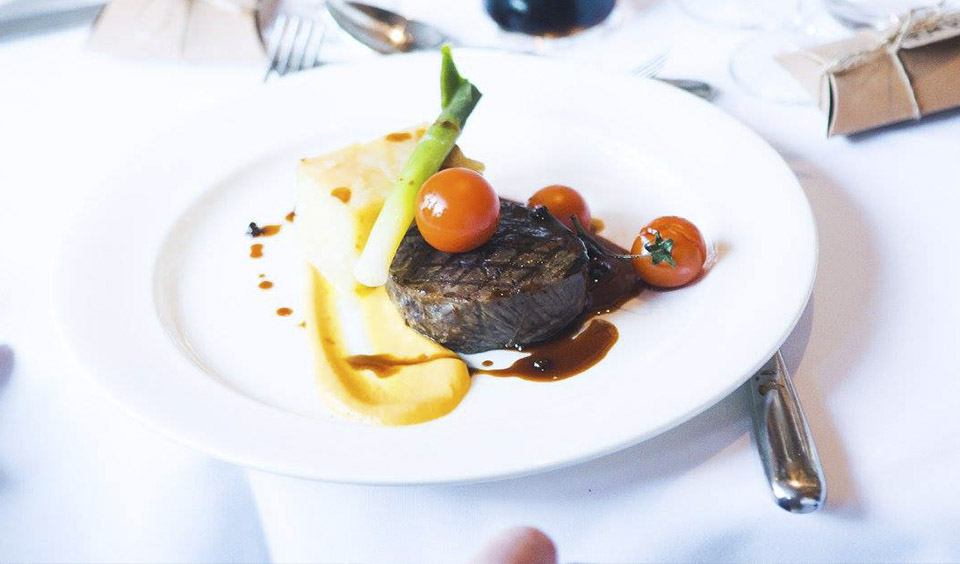 Cake, Glorious Cake
The three-tier cake consisted of Victoria sponge, a tier of chocolate sponge and a tier of lemon cake. Delicious! This was decorated with sugar flowers and Eleanor bought a wooden cake topper so that she could keep it as a lovely memento of the day.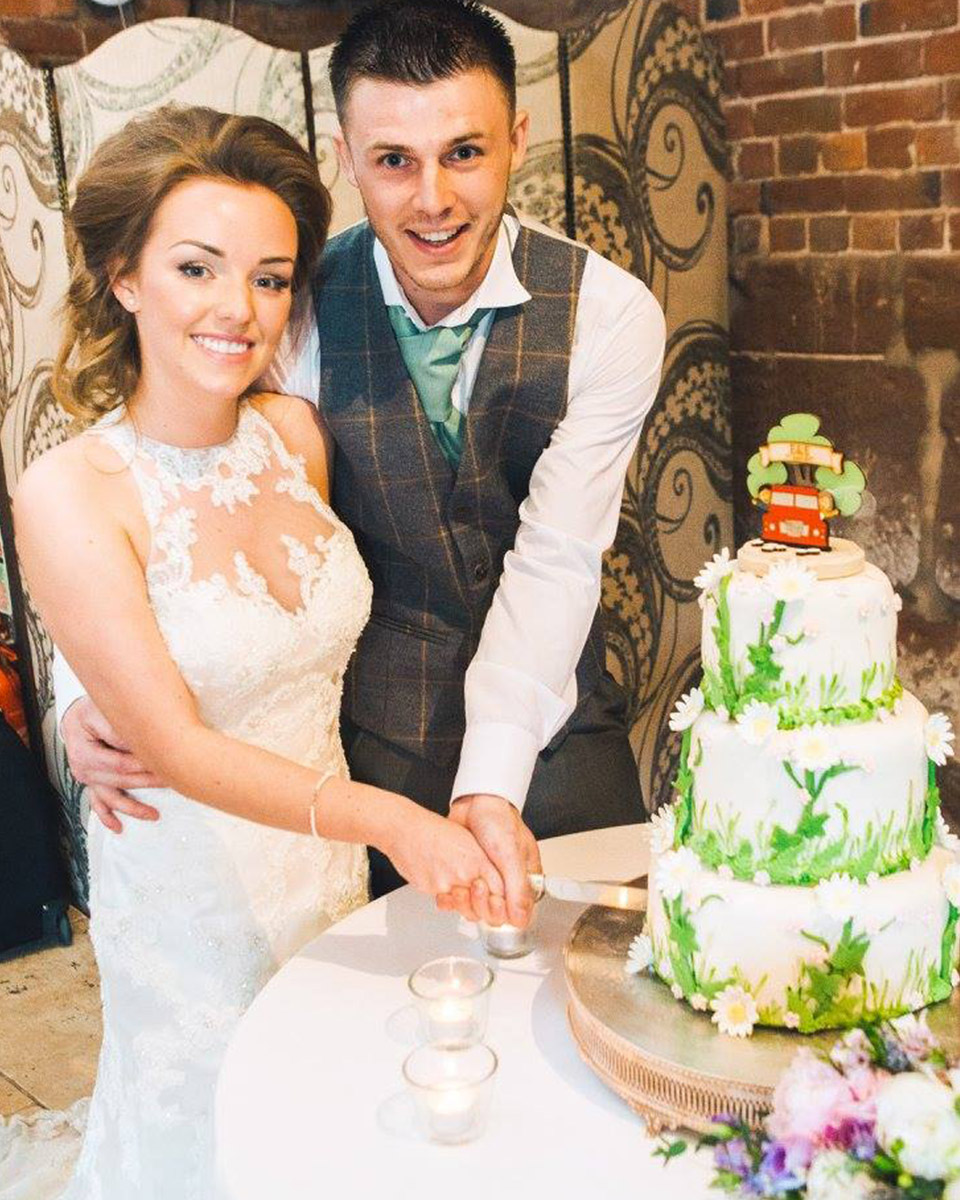 Evening Celebrations
DJ Woodward entertained guests in the evening and the newlyweds danced their first dance to 'Best Friend' by Jason Mraz.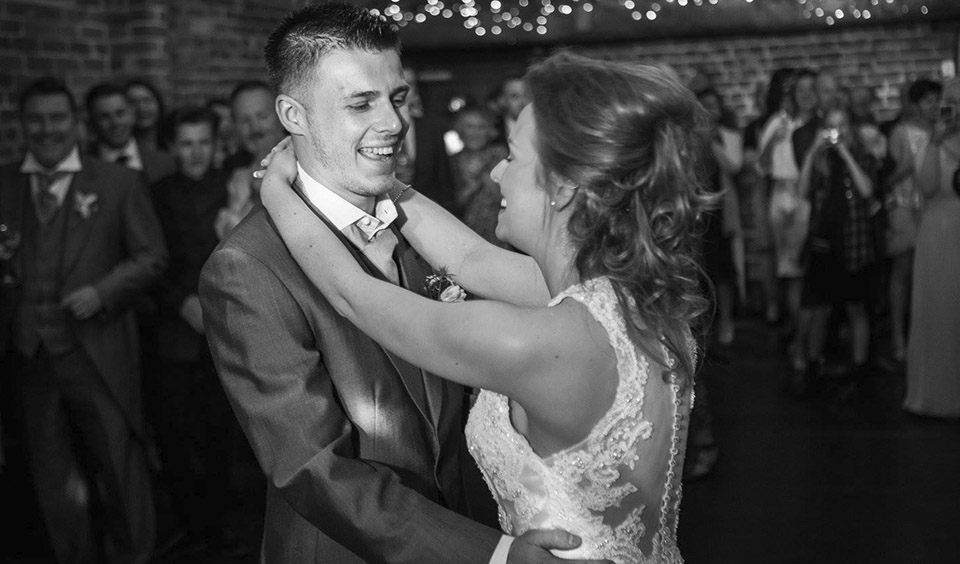 "It wasn't choreographed. We laughed our way all through the first dance!" – Eleanor
The Curradine Cantina came into play with delicious wood-fired pizza to keep all the guests happy in the evening.
Eleanor's Favourite Moment
"It might sound like a cliché but I loved everything! I enjoyed getting ready and being pampered, seeing my Dad when he saw me for the first time, walking down the aisle, saying our vows, going off for our little photo shoot, the food and drink, the speeches, our first dance and just enjoying the evening reception with friends and family. The day was just perfect!" – Eleanor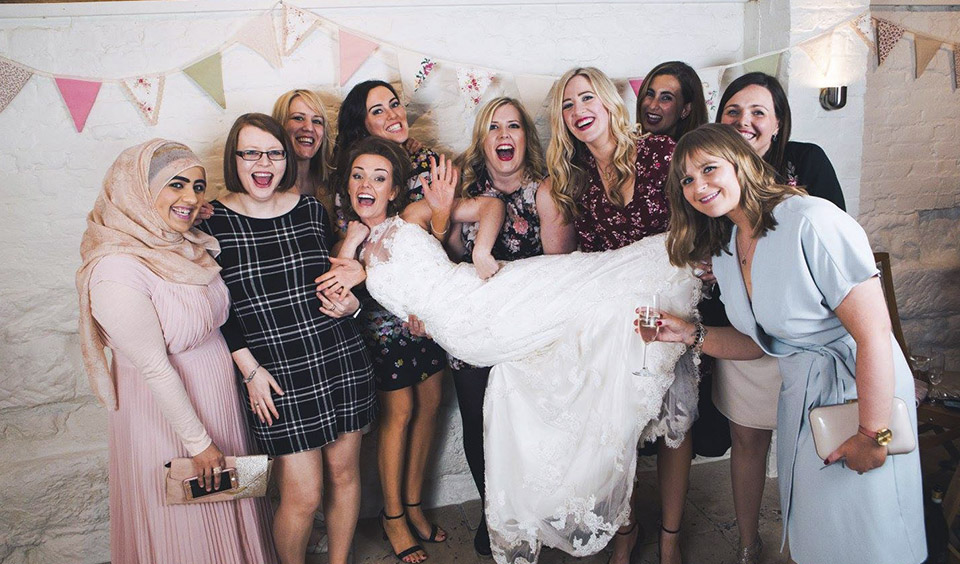 If you want to create a stunning celebration just like Eleanor and Elliot, read Planning Your Beautiful Spring Outside Wedding At Curradine Barns and find out all of our top tips!
Images courtesy of Ethos Photographics
Everything and more…
Find out more about celebrating your perfect wedding day at Curradine Barns.