With us, it is more than a meal – it is an experience.
It is the finest seasonal ingredients, prepared with expert skill and care. It is the constant help, support and advice of a dedicated team from your first visit to your last dance. It is the chance to sample our food, drink and atmosphere, talk every option through and customise your menu. It is giving you the wedding you have always dreamed of.
Quality and creativity throughout.
We understand that the food and drink on your wedding day has to be perfect. Each menu has been carefully created to provide dishes that delight, ensuring an unforgettable dining experience to share with your loved ones. Our team of chefs uses the very best that the season has to offer, dreaming up imaginative menus that fit the time of year and your wedding perfectly. This allows us to source locally, utilising the freshest ingredients from renowned suppliers and creating dishes that showcase them at their finest.
Yours every step of the way.
From the moment you first walk through our doors, our events team are there for you. After booking, you will be invited to one of our Wedding Experience Events held at Curradine Barns each year (a small fee is applicable). It is the perfect opportunity to taste a variety of our delicious dishes and wines and create a personalised menu with your Events Manager. You will also get to exchange wedding ideas with other couples and enjoy the venue as if you were a guest at your own wedding.
Between us all we'll make sure that yours will be an incredible day to remember.
Vintage crockery at Curradine Barns.
Elevate your table setting with our vintage crockery and crystal glassware collection for a touch of timeless charm. Contact your events team at [email protected] for more information.
Coming soon at Curradine Barns – embrace the rustic look with our beautiful new handcrafted solid pine wood tables. These stunning tables will be completely complimentary and available in both round and trestle style. If you wish to use them on your unforgettable day, please speak with the events team to find out more.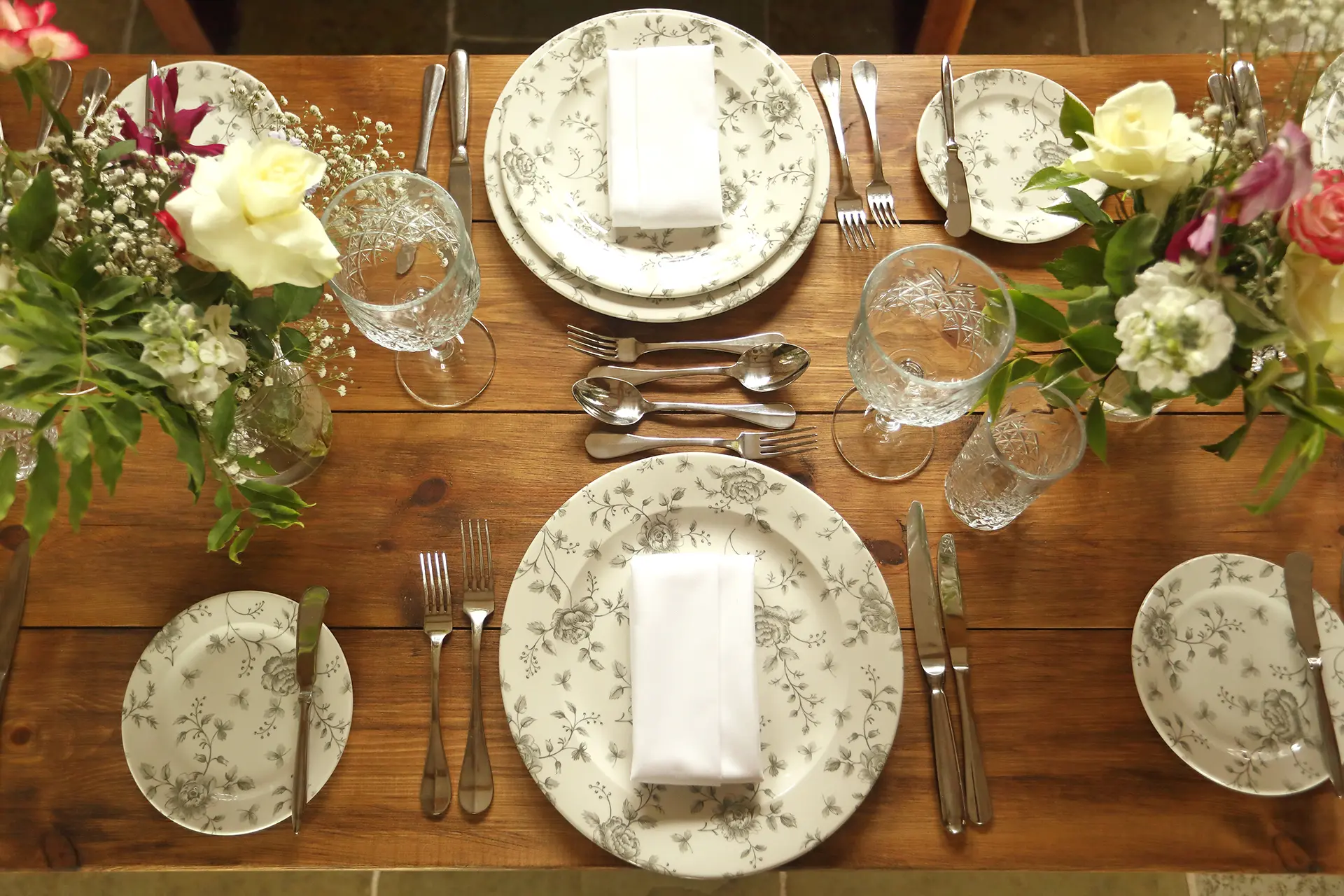 ©

Glenn Dearing
Everything and more…
Find out more about celebrating your perfect wedding day at Curradine Barns.