Summer Love at Curradine Barns for Nina and Samuel
Having known each other all their lives, the elegant July wedding of Nina and Samuel was the next chapter in this romantic love story.
Setting the Scene
When planning their summer wedding, Nina and Samuel had two main requirements – great food and a personalised style that really reflected their story.
"When Sam and I walked in to Curradine Barns, we looked at each other and couldn't stop smiling. We loved the character of The Granary Barn, the brickwork and the amazing chandelier. Surrounded by countryside, the whole place had a sense of calm – something our guests commented on after our wedding." – Nina
A Love Story
Samuel and Nina have known each other all their lives as Nina's grandmother lived next door to Samuel's parents.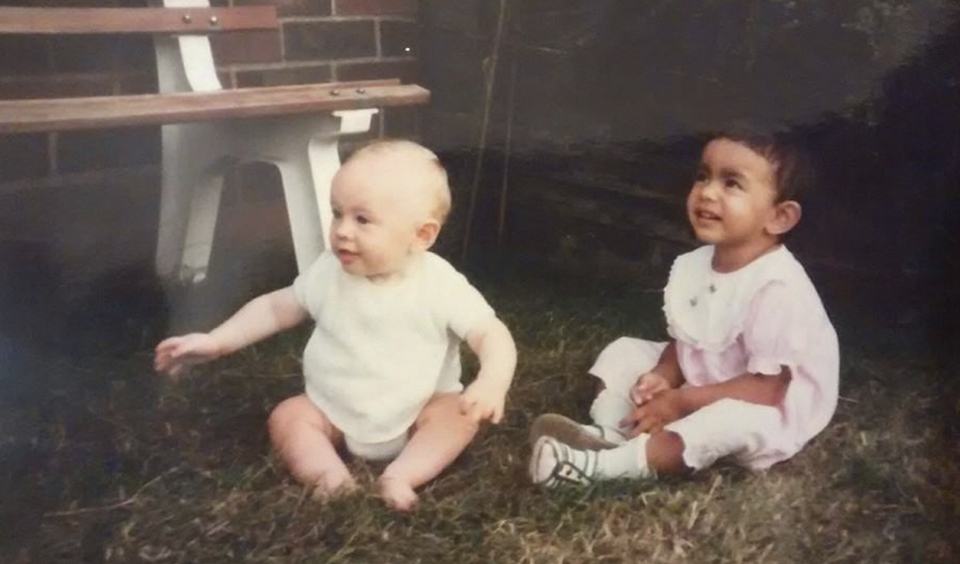 "We were best friends through childhood and Sam was even my first kiss. We lost contact for 16 years before finally meeting up in 2014. The rest, as they say, is history." – Nina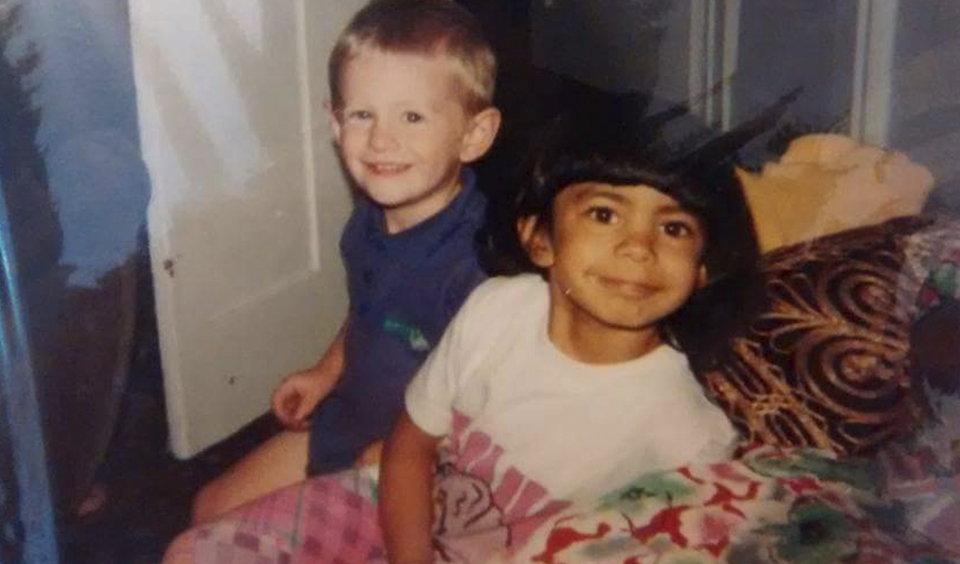 This romantic story was carried through the wedding. As they both remembered Nina's grandmother growing lavender, it became the main wedding flower and the table plan was inspired by places Nina and Samuel have visited together on their travels.
Theme of the Day
Various creative elements really gave this wedding a personalised edge. Focusing on a colour scheme of dove grey, white and Champagne gold, the happy couple made their table plan along with a time line of their relationship.
"It was a great way to let guests take a look in to our love story." – Nina and Samuel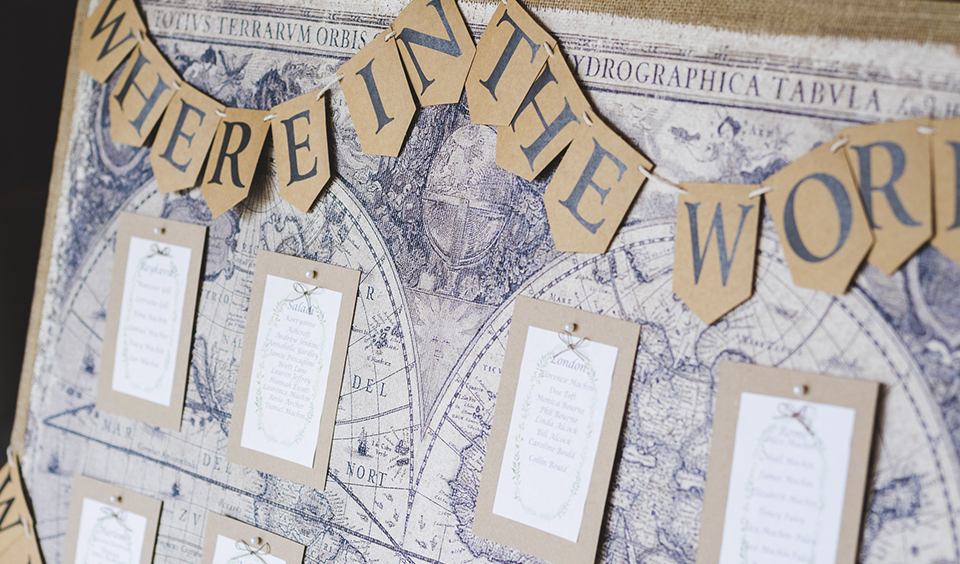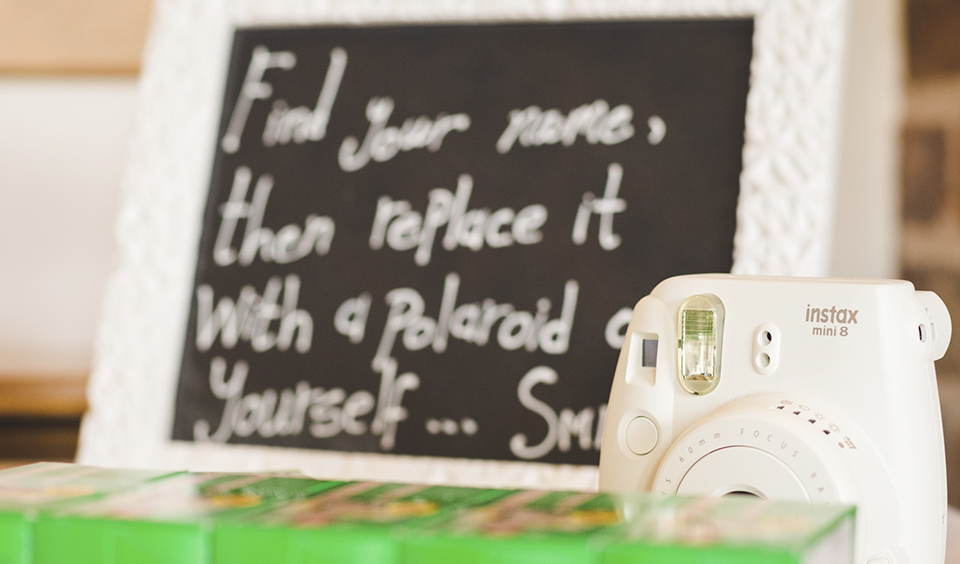 All About the Dress
Nina tried on a number of dresses before she found 'the one'. In the end, she chose a stunning lace fishtail gown.
"I felt amazing in it. I adored the layers of lace, the flowers, crystals and tiny sequins that caught the light as I walked around. I felt like I was in a fairy tale!" – Nina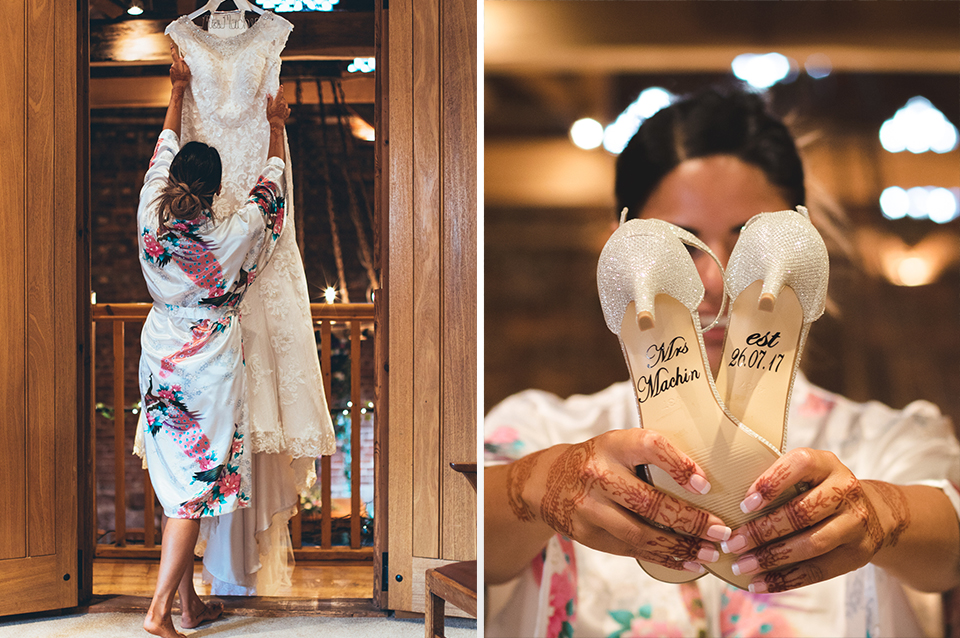 The beautiful bride accessorised with a long veil, sparkly shoes with silver straps and pearl drop earrings. Nina's six bridesmaids all wore grey to suit the colour scheme.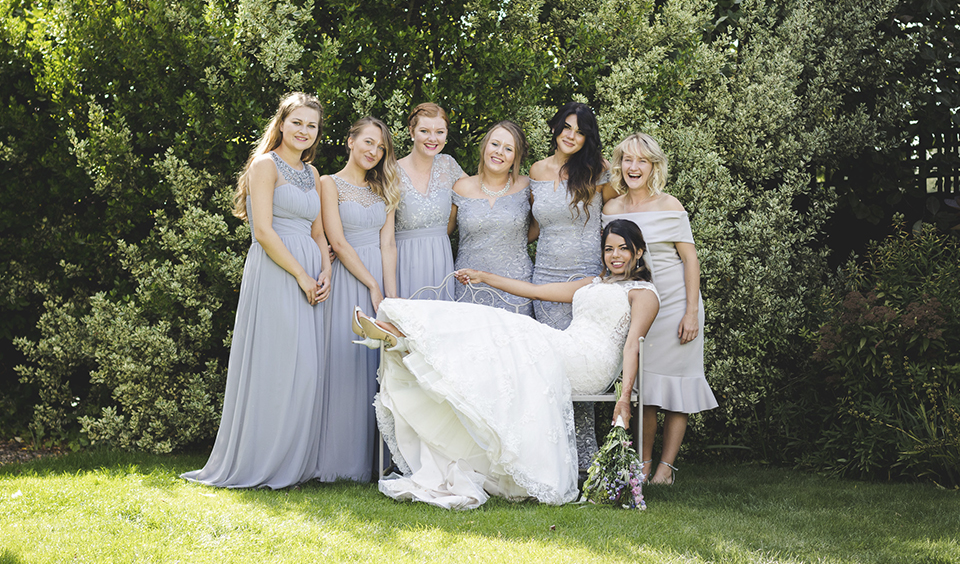 "My bridesmaids were all so different, I wanted them to reflect their own personal styles. They chose their own dresses, all in slightly different shades of grey and I bought them gold shawls, crystal bindi and hamza hand bracelets to reflect my heritage. They looked so beautiful." – Nina
And the Groom wore…
Sam looked the part in a pale grey three-piece suit with Champagne gold accessories while the best man and ushers wore co-ordinating suits in a darker shade of grey.
Beautiful Blooms
The happy couple regularly pick flowers when out walking with their dogs so, along with lavender, wild flowers were incorporated in to the wedding day.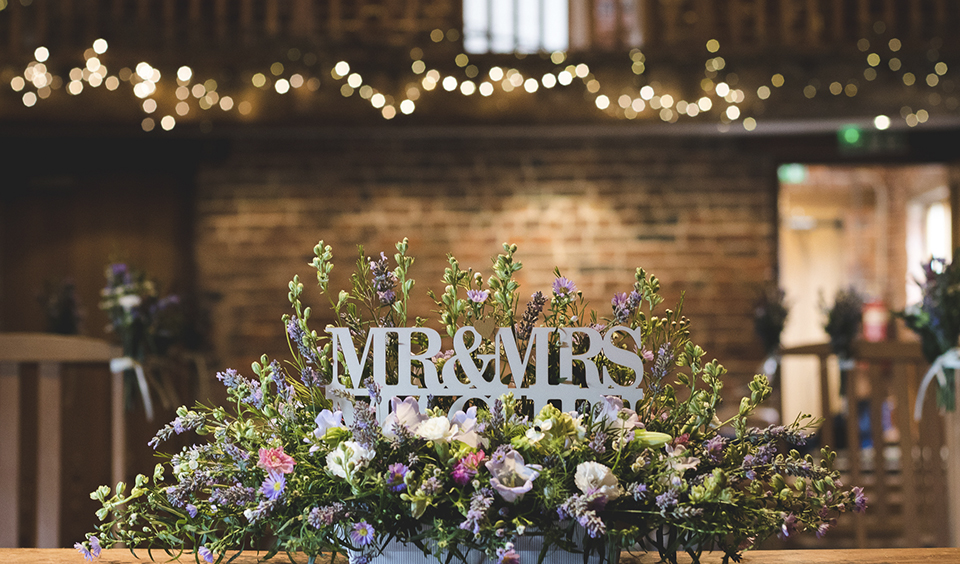 "We kept the décor simple as we felt the venue was so stunning. Flowers were the main decoration with a feature flower wall at the end of the aisle which was then carefully moved to hang behind the top table in the Barley Barn." – Nina and Samuel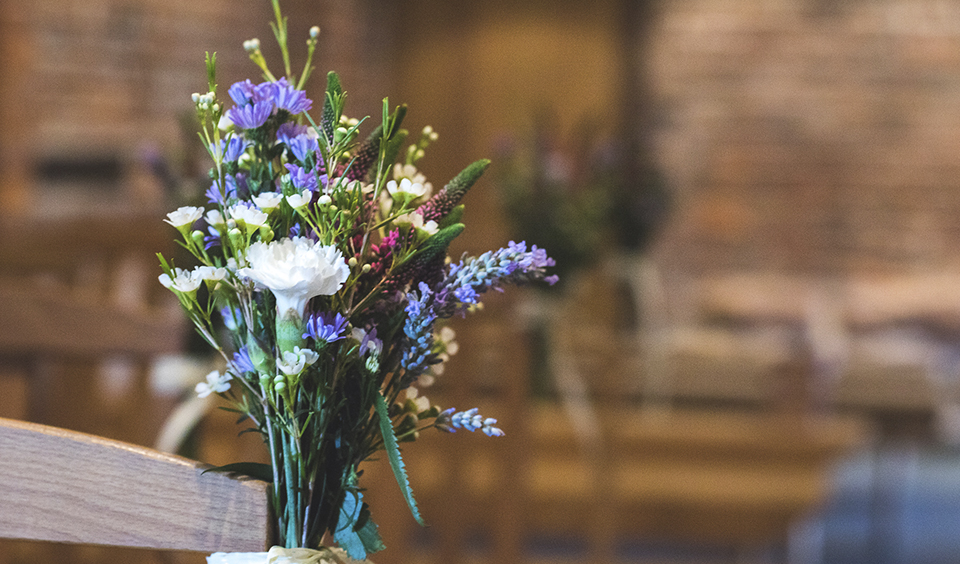 Each place name featured a few pieces of dried lavender from Nina's grandmother's garden, along with a thank you note from the bride and groom.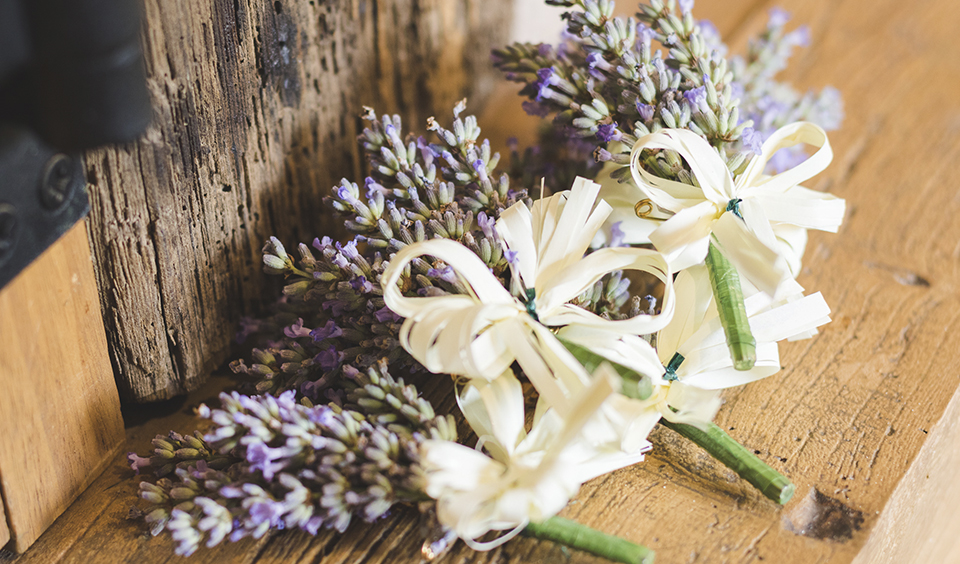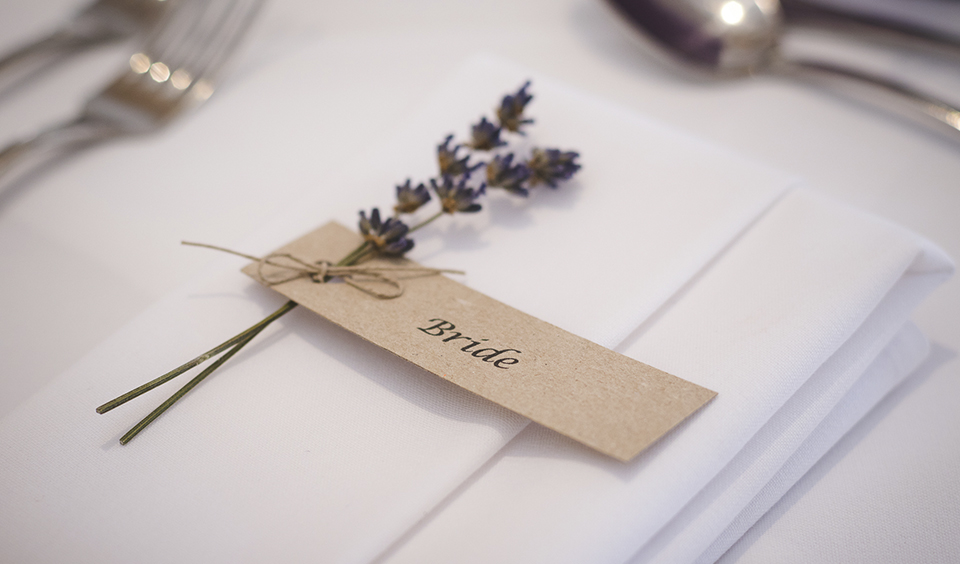 The Day Begins
Nina and her bridesmaids got ready in the bridal dressing room at Curradine Barns, enjoying the bridal brunch before the ceremony took place.
"It was the perfect setting. I loved that I could look out of the window and watch everyone arriving!" – Nina
Following their civil ceremony, Sangria Flora was served alongside delicious canapés.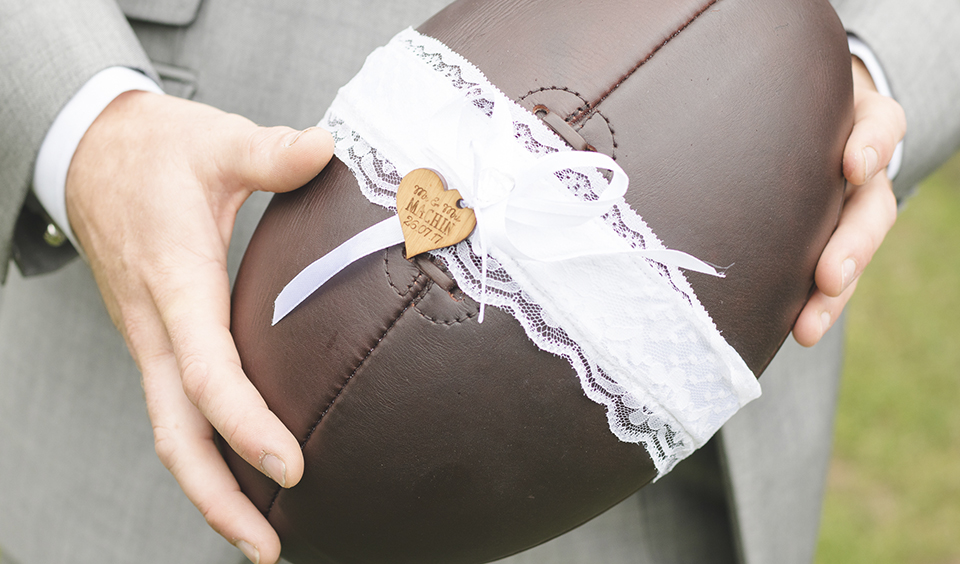 The Wedding Breakfast
When the couple and their guests had entered the Barley Barn, the catering team served crispy duck to start followed by fillet of beef with dauphinoise potatoes. And, for dessert, it was Sam's favourite, Eton Mess.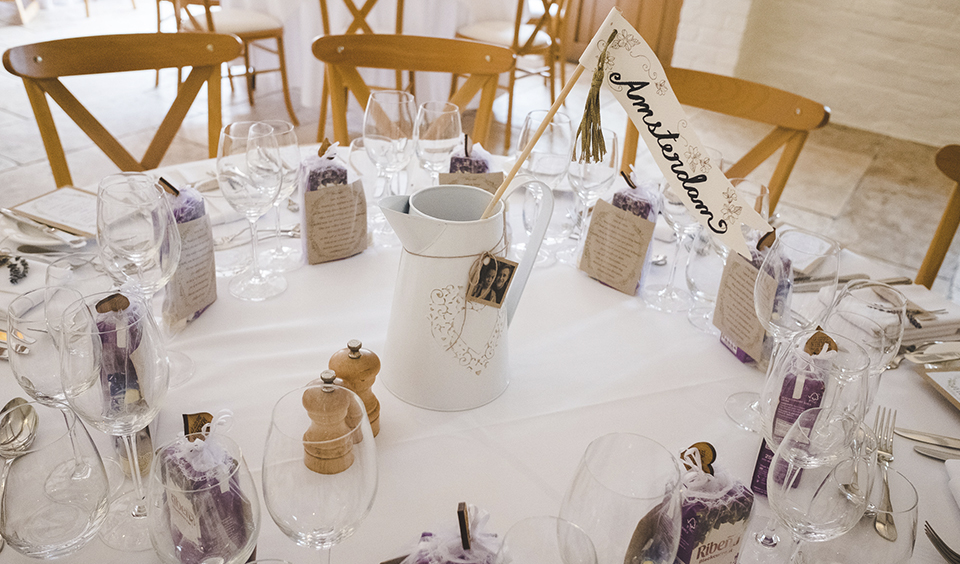 "We loved all the food at the tasting event so it was hard to choose the final menu. The beef was amazing, the best we have ever eaten." – Nina and Samuel
During the evening, Turkish meze was a big hit with the guests. DJ Chris Mack entertained guests with a great playlist and Nina and Samuel danced their first dance to the acoustic version of 'Latch' by Sam Smith, a song that will always hold a special meaning for them.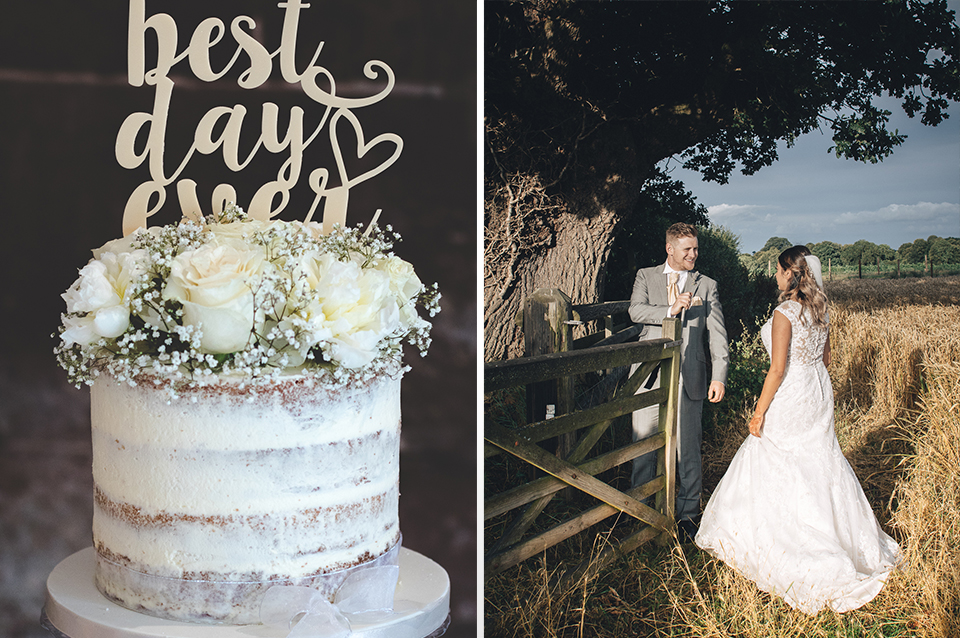 Nina's Favourite Moment
"When they pronounced us husband and wife and we walked down the aisle together. There's no feeling like it!" – Nina and Samuel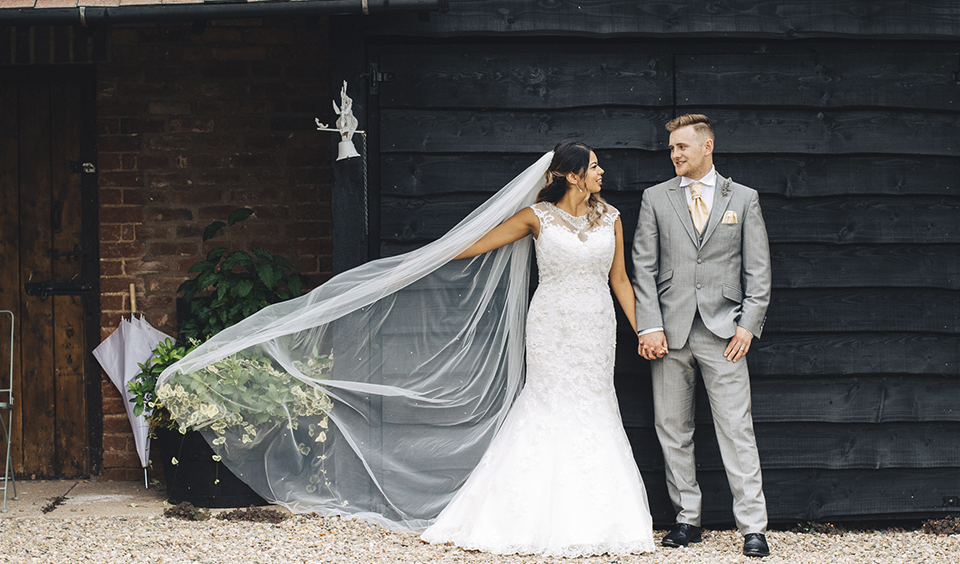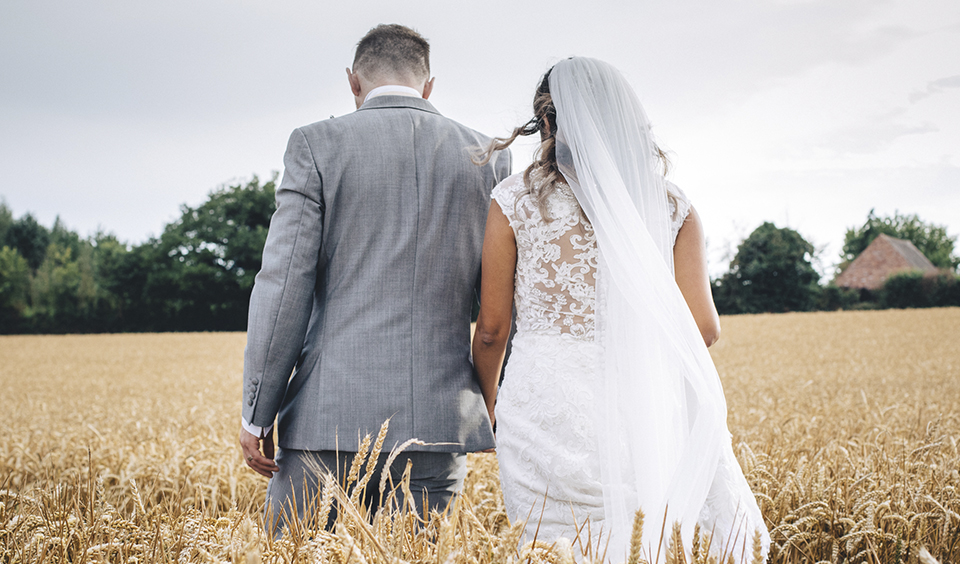 If you want your wedding day at Curradine Barns to be full of natural beauty country style, make sure you read Samantha and Simon's Rustic Celebration and pick up some amazing inspiration.
Images courtesy of Tim Borrow Photography
Everything and more…
Find out more about celebrating your perfect wedding day at Curradine Barns.