Victoria and Mark's Homemade Elegant Wedding
A delicate colour scheme, personalised details and the warmth of family ensured Victoria and Mark's wedding was one to remember.
The Perfect Venue
Victoria and Mark found the venue search one of the most challenging aspects of organising their wedding. Narrowing down their search to Worcestershire, they eventually came across Curradine Barns.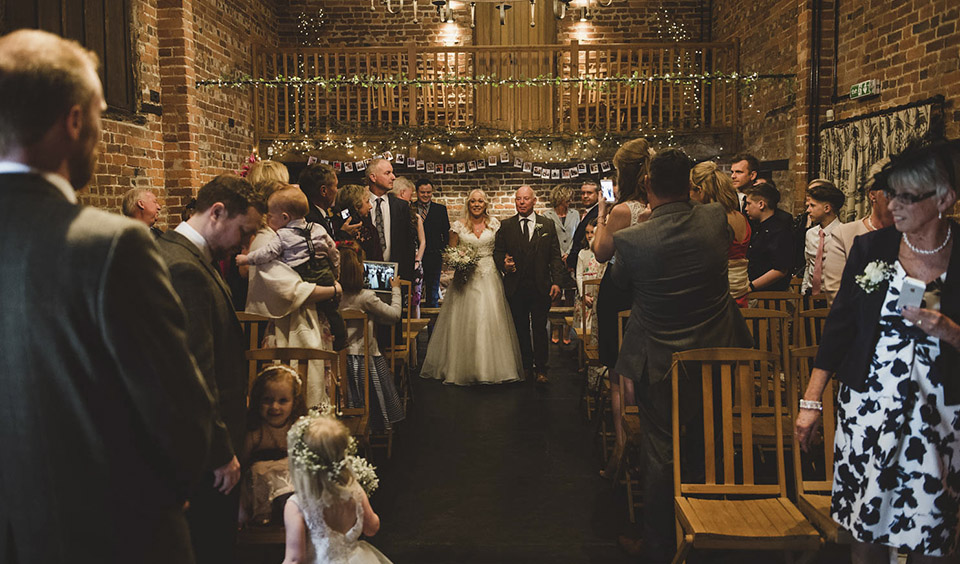 Setting an April date, Victoria was also comforted by the fact that she wouldn't need to step outside at all if the weather was poor!
"We fell in love with the relaxed atmosphere and the fact the day could flow smoothly from one area to another. It could also accommodate Mark's family in the Farmhouse and was only ten minutes from my childhood home." – Victoria
Setting the Style
The happy couple wanted to create a relaxed, informal vibe so decided to add 'homemade elegance' wherever possible. As a family of three with their daughter, Matilda, they have a symbol with their initials painted on their kitchen wall at home. This symbol was used on the save the date cards and carried through to invitations and décor.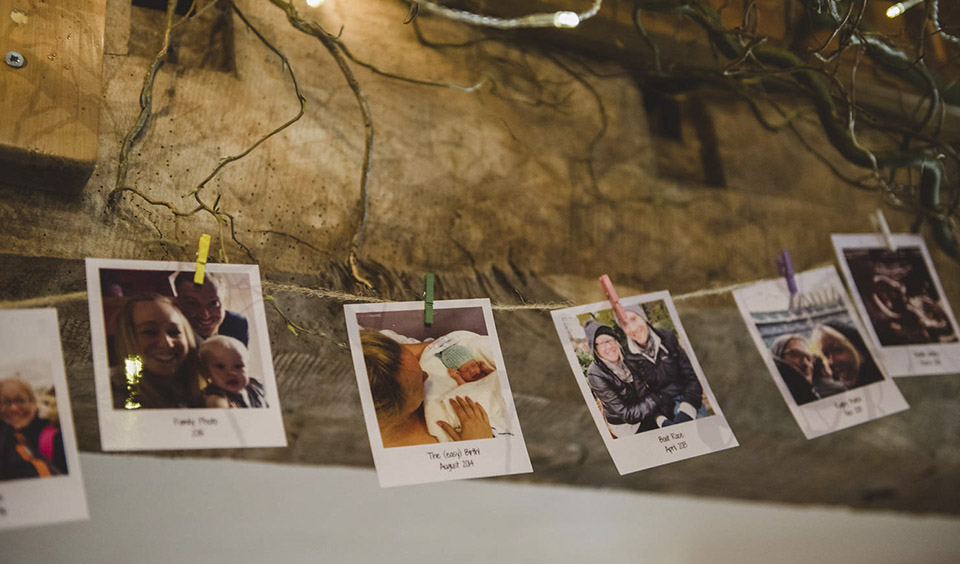 Keeping the décor simple, Victoria and Mark made many of the decorations themselves. Victoria's father and uncle hand carved table place names in wood and laser cut table numbers, which sat in cream jugs with flowers. For the younger guests, wooden clipboards engraved with their names held personalised colouring papers.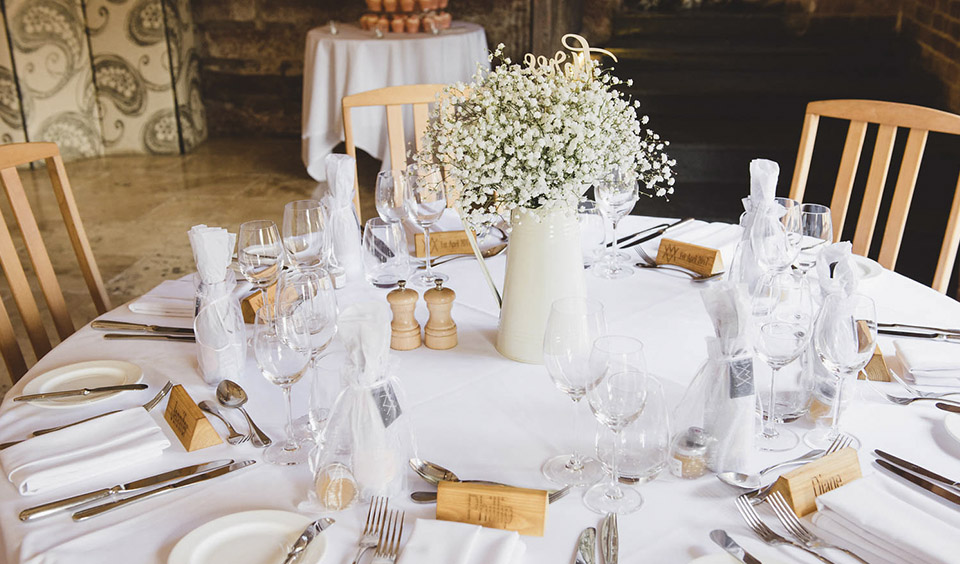 "My father also keeps bees and they provided a bumper crop of honey. He harvested and jarred the honey for favours and my parents spent months hand labeling each jar." – Victoria
All About the Dress
The beautiful bride wore a dress by Serenity.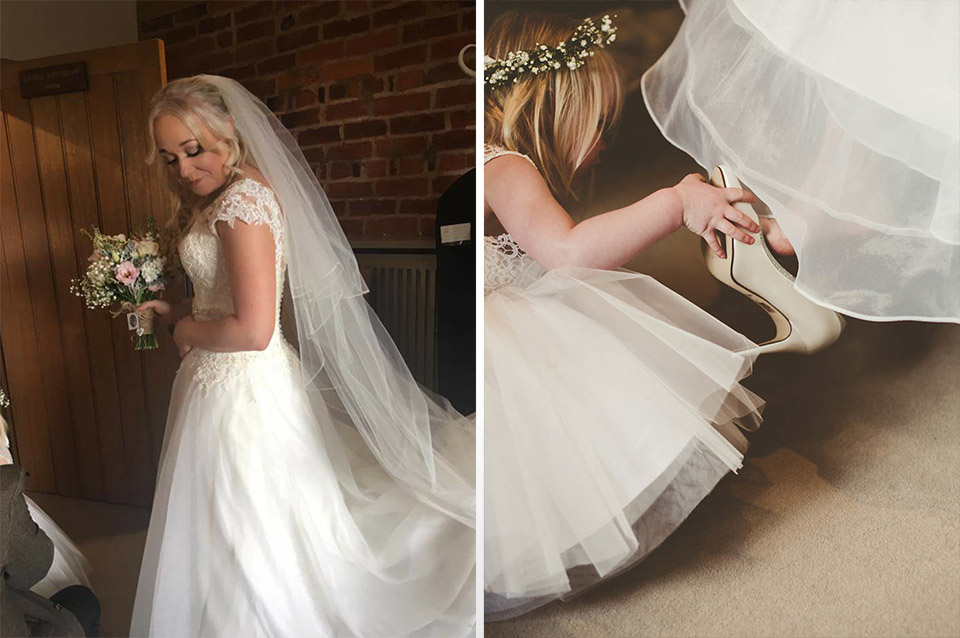 "I fell in love with the fullness of the organza skirt and the lines of the bodice. I thought the dress was complete until I tried on a cathedral length veil and felt truly bridal!" – Victoria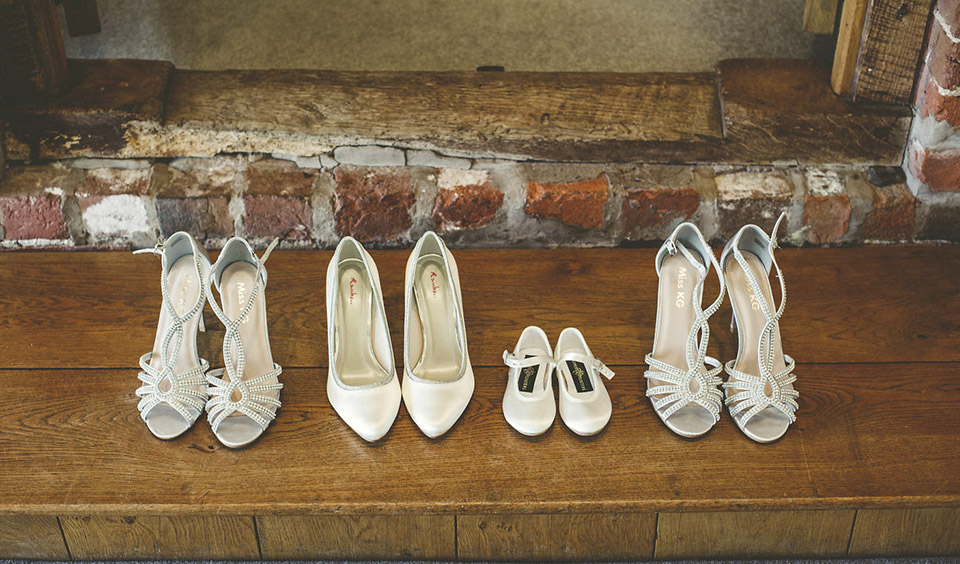 Victoria's parents gave her a beautiful necklace and earrings to match her engagement ring and her shoes, with a touch of sparkle, completed the look. For the evening, she changed in to white Converse – just the thing for dancing!
Beautiful Bridesmaids
Victoria had two bridesmaids and one flower girl. Her younger sister, Rebecca, was Maid of Honour while friend Kira was the other bridesmaid.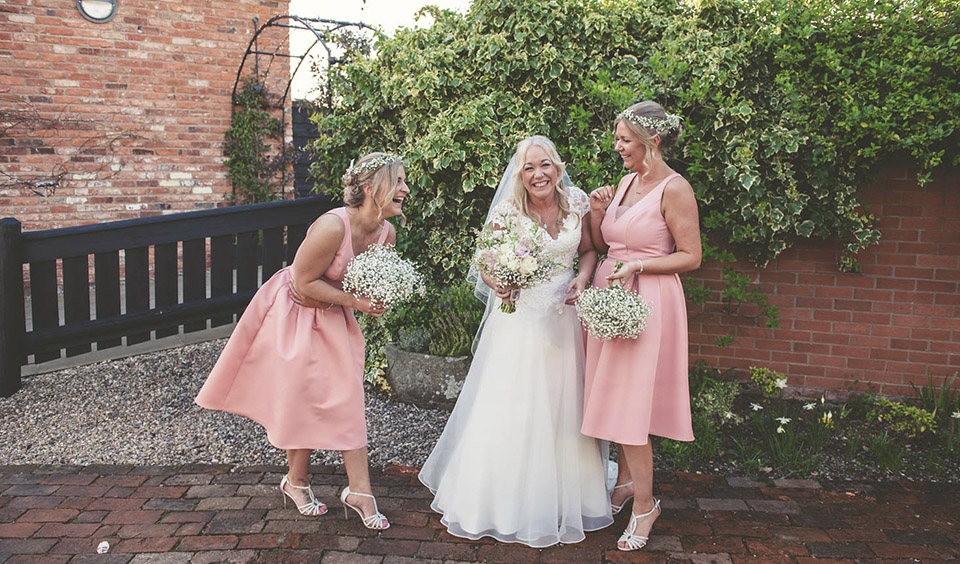 "Kira grew up living next door to us and is an honorary sister to us!" – Victoria
Two-year-old Matilda was the pretty flower girl and wore a dress with lace bodice and organza skirt, just like her mummy! For the adult bridesmaids, Victoria chose dresses in salmon pink to bring in warmth and a touch of springtime. All three bridesmaids wore gypsophila flower crowns to match their posies.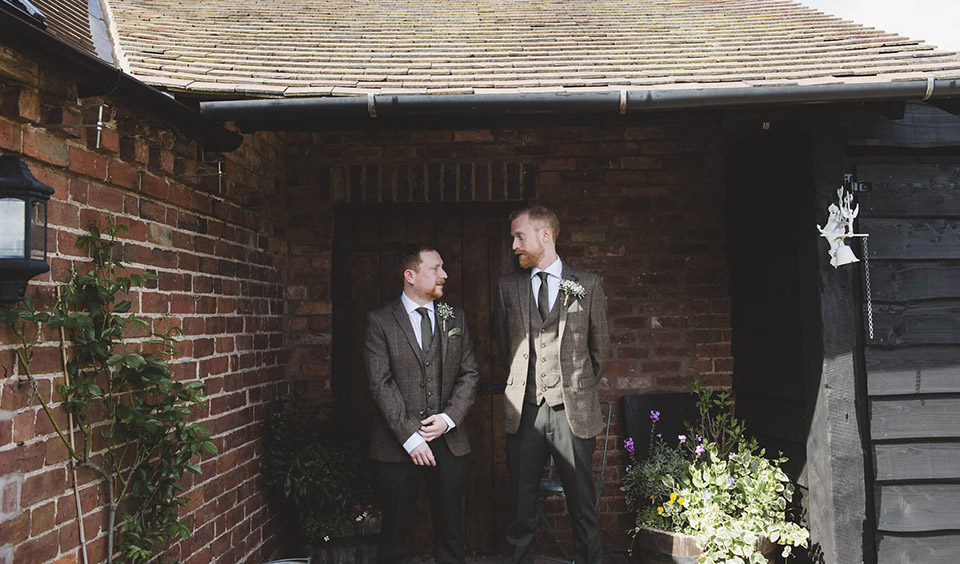 Mark opted for a dark green tweed jacket and coordinating waistcoat to suit the rural setting. An olive tie and pocket square complemented the green tones.
Beautiful Blooms
In comparison to the simplicity of the bridesmaids' gypsophila posies, Victoria decided to carry something a little more elaborate.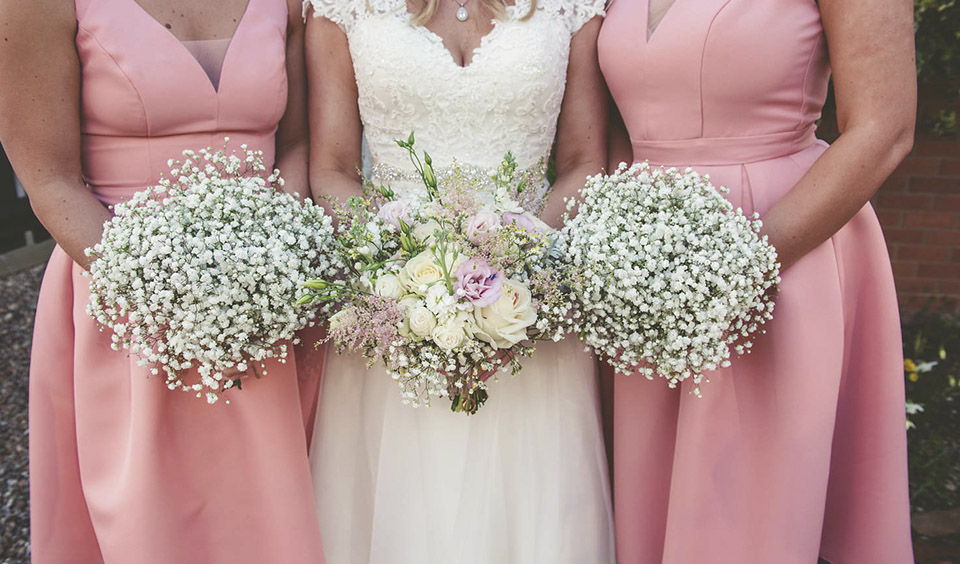 "I wanted it to look like I had walked along the lane and collected the flowers on my way to Curradine Barns." – Victoria
Tied with twine, the bridal bouquet consisted of cream and white roses, pink astilbe, white limonium, white stocks, gypsophila and pink lisianthus. It also incorporated a photograph of her great grandparents on their wedding day as her 'something old'.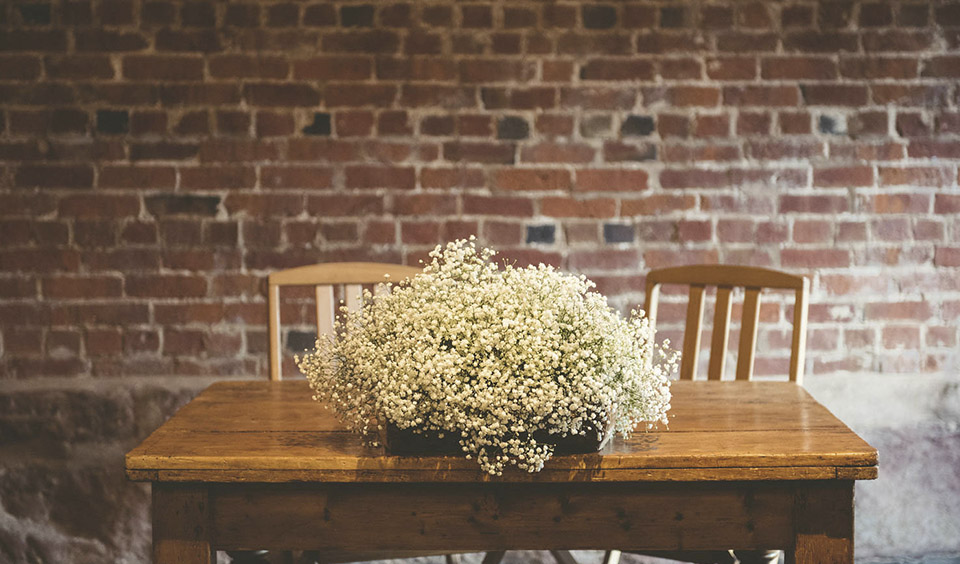 Continuing the gypsophila theme, these pretty flowers were also used in the table centre arrangements and in a rectangular wooden log for the ceremony table.
The Wedding Breakfast
Following their ceremony in the Granary Barn, the newlyweds and their guests made the most of a dry, sunny day by enjoying welcome drinks in the Courtyard. Gin Berry Fizz and Apple Juleps accompanied delicious canapés. For their spring menu, lamb was served as a main course, followed by a trio of desserts.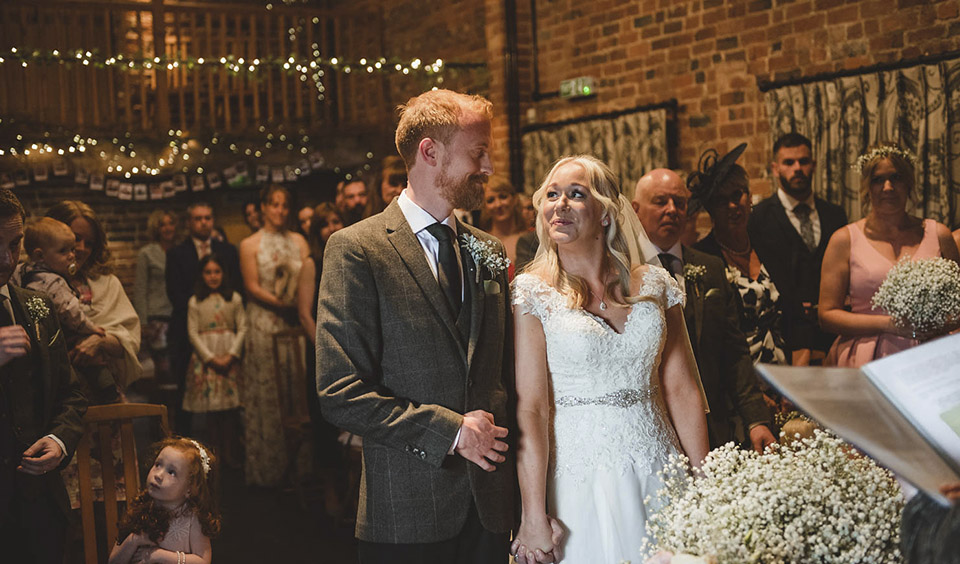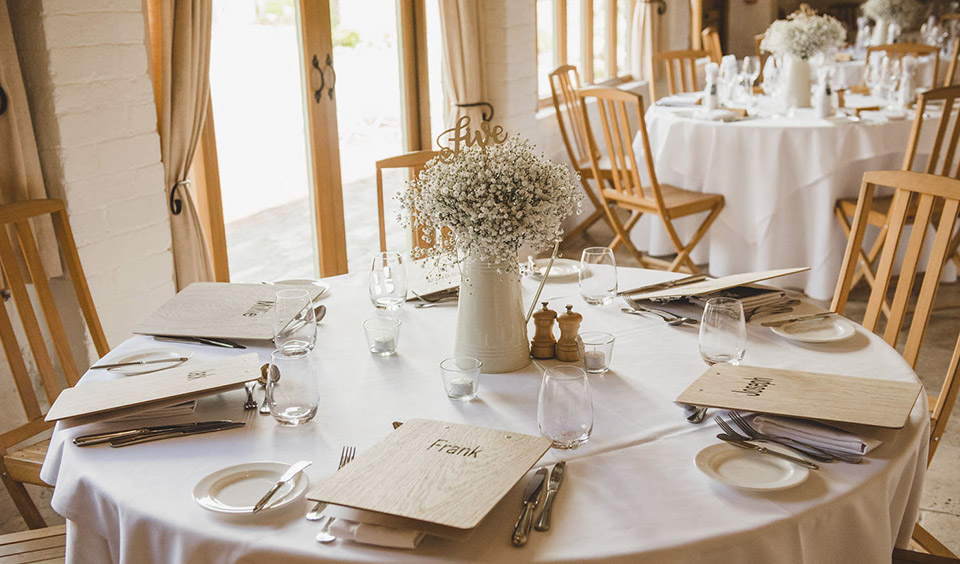 That's Entertainment!
Intent on throwing a great party, Victoria and Mark asked each guest to choose their three top songs to add to the wedding playlist. Deciding that they would also like to have live music, they asked acoustic guitarist Dan Greenaway to play.
"Dan could also be flexible enough to be able to either walk around while guests were drinking in the bar or set up in the Granary Barn for those who wanted to dance the evening away." – Victoria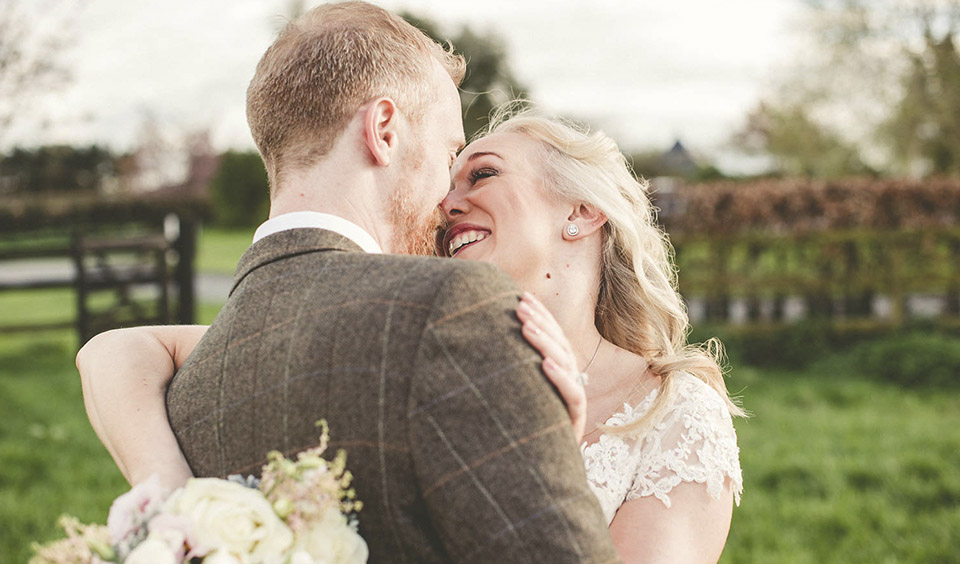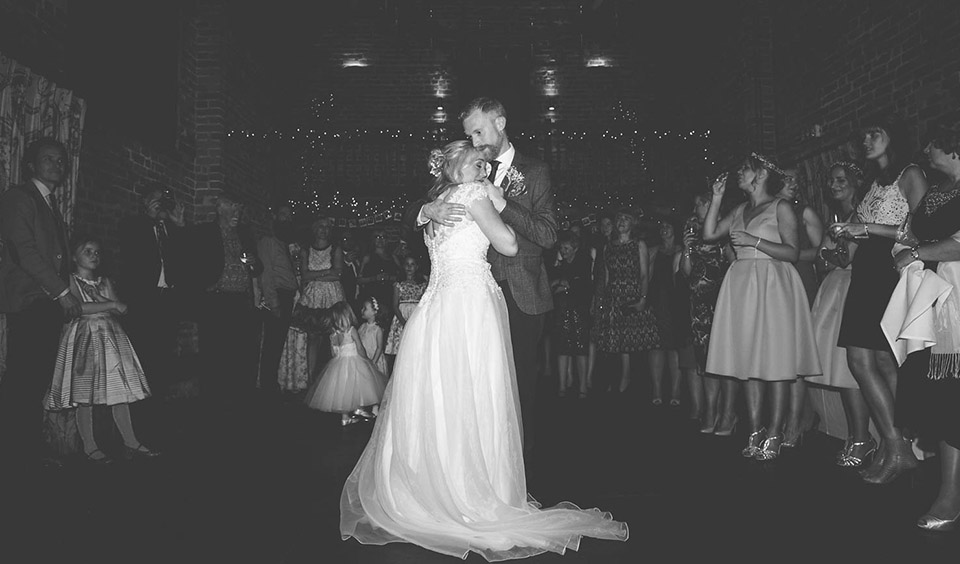 Adding another dimension to the evening entertainment, they set up a 'Magic Mirror' – a glamorous selfie mirror which captures full-length photos. Guests can keep a copy while another is kept in a guest book for the bride and groom.
Let Them Eat Cake!
As an alternative to the traditional tiered cake, the happy couple had a single passion fruit tier surrounded by Champagne-flavoured cupcakes.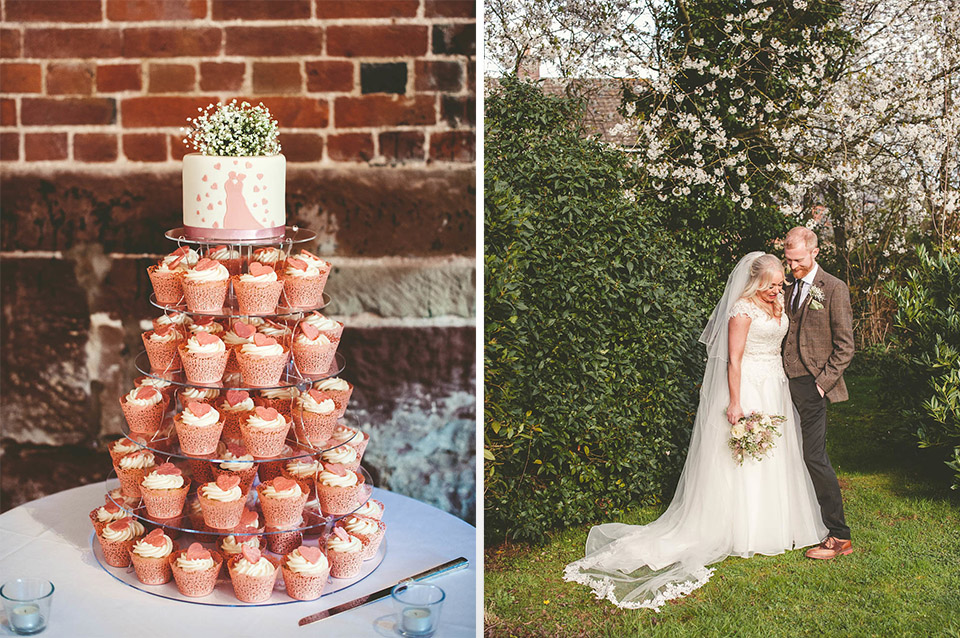 A Romantic Detail
Mark's grandparents (both aged 93) attended the ceremony via Skype from their home in Lowestoft!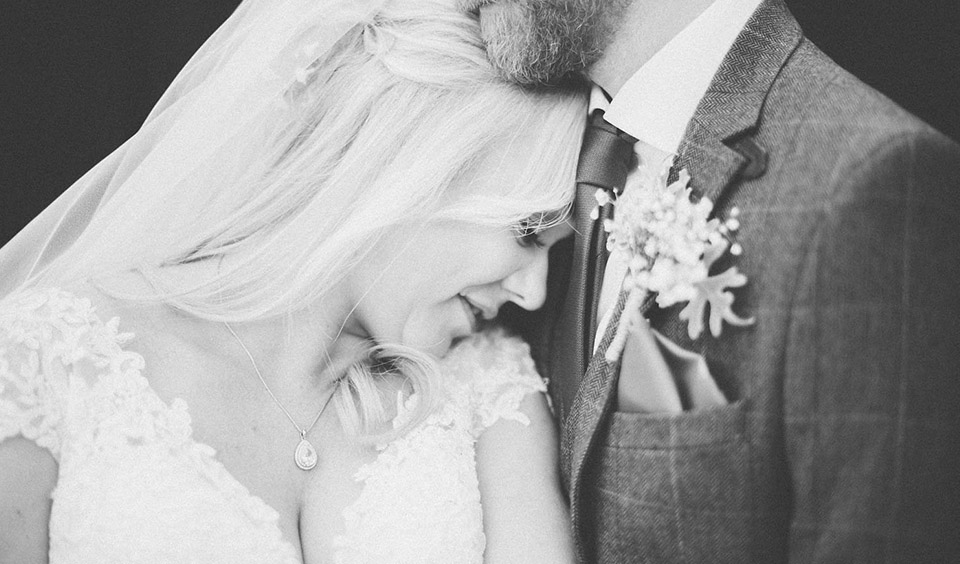 The Favourite Moment?
"The ceremony! It meant so much to me, the symbolism of joining hands and lives together with Mark." – Victoria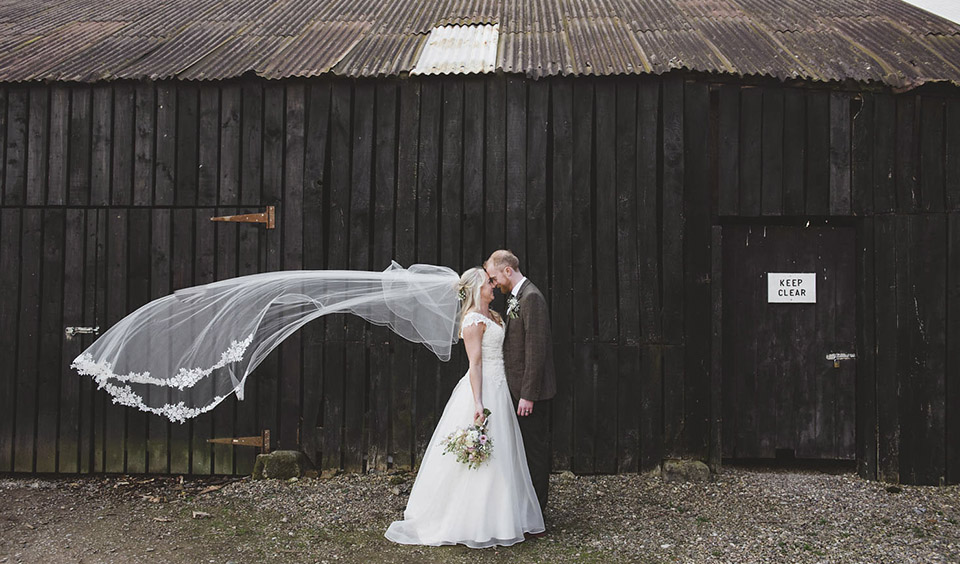 If you need a little more inspiration for decorating your wedding at Curradine Barns, then check out these amazing Rustic Wedding Ideas and plan the most beautiful day!
Images courtesy of Catherine Regan Photography
Everything and more…
Find out more about celebrating your perfect wedding day at Curradine Barns.